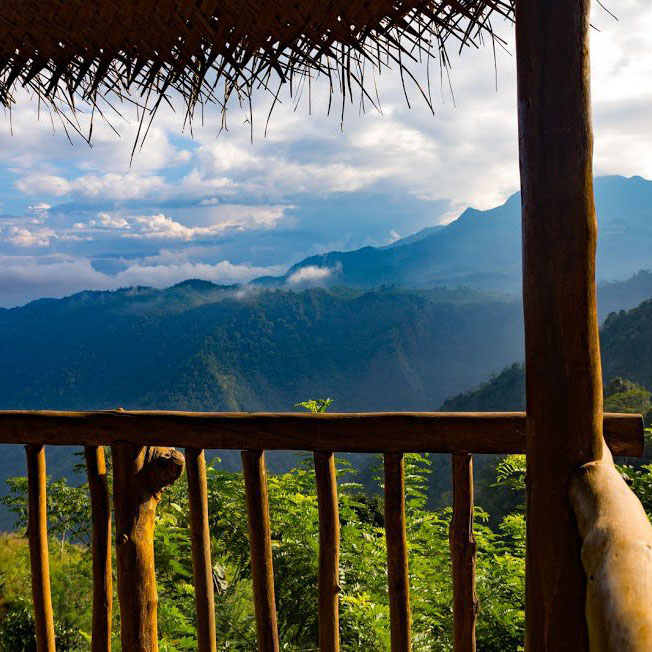 Into the Wilderness
"God's own country" Kerala is gifted with dense nature and variety of Flora & Fauna.  So, set your foot in Nature's Backyard, experience the wilderness and the natural beauty of Western Ghats hills!
Western Ghats being one of the eight hot-spots of biodiversity in the world and home to indigenous species of flora & fauna, are paradise for bird lovers, nature photographers and trekkers alike.
This is the place where you can get the peace of mind in the form of nature, yoga, ayurveda and set yourself wild in the lush green hills. Its here, where one can get fully immersed and enjoy off trail adventures, by creating their own paths.
Planning a holiday in the wild is an invitation to be a part of nature again from which we have disconnected ourselves lately.
Day by Day Itinerary
DAY 1 - ARRIVE KOZHIKODDE (By Flight) – WAYANAD
****  Arrive Calicut (Kozhikode) – "The Spice Town" and transfer by road to Wayanad, passing through scenic landscape (climb starts after half way)
Breakfast at the hotel
Rest of the day relax & enjoy amenities at the hotel like infinity pool, massage at spa, etc. Enjoy the most scenic sunset from the valley
Dinner & Overnight at the hotel
DAY 2 - WAYANAD
Breakfast at the hotel
Today we shall organize some activities through hotel, as per your interest. Like Walk through the wild, Cycling, Trekking, Cooking class, Bamboo rafting, etc.
Take a guided tour of the property with our naturalist to learn about local flora and fauna
Dinner & Overnight at the hotel
DAY 3 - WAYANAD
Breakfast at the hotel
Choose the activity as per your interest
RECOMMENDATION: Visit Edakkal caves (hike of a km each way) & Pookoot lake. At Kalpetta town, you can buy good quality spices and herbs, available at shops
Dinner & Overnight at the hotel
DAY 4 - WAYANAD – CALICUT – ALUVA (By Train) – VENGOOR
Breakfast at the hotel
Transfer by road to Calicut Railway station
****   Departure by Train
****   Arrive Alwaye (Aluva) and Transfer by road to Vengoor, an island of calm situated at the midst of the forest, where mountain meets the river Periyar
Relax at the hotel and enjoy amenities
Overnight at the hotel
DAY 5 - EXPLORE VENGOOR
Breakfast at the hotel.
Again, we shall have activities organized like, fishing, bird watching, nature walk with naturalist, exploring organic farms, visit of rubber plantation, etc and you can join as per your interest and the suitable timings
Dinner & Overnight at the hotel
DAY 6 - EXPLORE VENGOOR
Breakfast at the hotel
Do some more nature activities and enjoy the perfect location of accommodation
Dinner & Overnight at the houseboat
DAY 7 - VENGOOR – KUMARAKOM
Breakfast at the houseboat
Transfer by road to Kumarakom – famous for its bird sanctuary set amidst the backwaters and next to the Vembanad lake, famous for its bird sanctuary (if interested to visit, evening or early morning is best time, takes about 2 hours, walking distance from Coconut Lagoon, need to buy entrances and use forest guide)
Rest of the day relax at the hotel. Enjoy the most scenic sunset in the lake
Overnight at the hotel
DAY 8 - KUMARAKOM VISIT
Early morning you can go to visit the Kumarakom bird sanctuary and / or fishing, hotel will assist you organize
Breakfast at the hotel
Relax, appreciate the nature and rejuvenate with ayurvedic massage (pay directly)
Late afternoon do a sunset boat cruise (organized by hotel)
Overnight at the hotel
DAY 9 - KUMARAKOM – ALLEPPEY (BACKWATERS)
Breakfast at the hotel
1230   The houseboat reports directly at the hotel's reception, get on board and have Lunch
Then cruise along the serene backwaters. Knock at your creative faculties and wake up the poet or painter in you! Evening enjoy the beautiful sunset and then anchor at some convenient location for the night.
Dinner and overnight at the houseboat
DAY 10 - BACKWATERS
Breakfast at the hotel
Today full day cruise into another area of backwaters and finally Vembanad lake in order to reach at Kumarakom side
Dinner and overnight at the houseboat
DAY 11 - BACKWATERS (ALLEPPEY) – MARARI
Breakfast on board the houseboat
0900   The boat drops you directly at the Alleppey – "The Gateway to the Backwaters" and also "Venice of the East" and Transfer by road to Marari. En route shall show you the coir work famous from this area (closed on Sundays)
Relax and enjoy beach stay
Overnight at the hotel
DAY 12 - MARARI
Breakfast at the hotel
Full day free to relax and enjoy beach stay
Overnight at the hotel
DAY 13 - MARARI
Breakfast at the hotel
Relax and enjoy beach stay
Overnight at the hotel
DAY 14 - MARARI
Breakfast at the hotel
Relax and enjoy beach stay
Overnight at the hotel
DAY 15 - MARARI - COCHIN - *******
Breakfast at the hotel
Transfer by road to Cochin– "The Queen of Arabian Sea" for international flight
****   Departure by Flight