Recently Times of India published an article that Goan Engineers are turning into Farmers. I must say though, not only engineers, even other professionals employed in different fields are trying to be innovative and creative in their own ways, have rediscovered their inner talent and showcased themselves to the world in their renewed avataar. In the days of lockdown, social media has played a crucial role to promote such talent, through Whatsapp, Facebook or Instagram status. In fact most of us have discovered something new to work our hands on, have learnt more patience and to be compassionate to others. There is entire new feeling about respecting mother nature and lot of small children have reconnected with nature (instead of gadgets) and family bonds have become stronger!
While some are just keeping it as their hobby, others have made it into their profession. For example, people who were working abroad and are stuck in Goa, have started with own small and innovative businesses, even if it is temporary. For example fast food restaurants (take-away), selling fish or in other unique ways.
Corona Virus has created panic situation in the entire world and so many deaths have taken place besides multiple times the affected cases! The persistence efforts of doctors and nurses have deeply touched our hearts. In order to pay our tribute to them and keep ourselves safe (thus not causing additional burden on them) from this pandemic, we stayed inside our houses.
This lock down has been beneficial in many ways, leave aside small discomforts and adverse economic impacts. This pandemic has changed our lifestyle someway or the other!
We have learnt to spend less on unnecessary products / items, adopted healthier habits like eating fresh food cooked at home and started avoiding junk & other fast foods
This pandemic has brought out a new trend of reusing the old products in upcycled manner, e.g. convert old denim clothes into bags; make face masks out of old material, etc
People have learnt to control their house / personal expenses, by doing small things at home itself like hair cutting, hair dye, start organic growing vegetables at home, making pasties & cookies, etc.
Some have started doing short films, nature photography, singing / dancing – all from comforts of home! While many have actually started exercising, meditation & yoga which they avoided despite taking numerous new year resolutions! This has led to healthier living combined by eating healthy food and of course, not to forget that we have much cleaner air, water and surrounding which came as a boon to entire earth.
Below are some small discoveries of our acquaintances doing creative stuff:
"My mother is a great chef and she takes catering orders for wedding and other functions. She always motivated me to cook, but I wanted to go in a different field. So I chose to be a beautician."
"In lock down, I just tried to follow her footsteps and learnt from her some dishes, even though I knew some basic ones. But now I have learnt and tried some local Indian and Italian dishes too (from vada pav to pizza, including some refreshment drinks / juices, deserts, etc.)
"Engineering was once, and is still considered to be the most sought after career in India. It really took lots of courage to step down into the fields and do work manually, without instructing any lower division clerk.
Being born in farmer's family, I was brought up practicing farming since childhood.
This lock down became the perfect reason for me to accomplish my dream and I started with a small patch of organic vegetable in my field, the result of which gave lots of happiness to me and we proudly distributed the produce amongst friends and relatives. Slowly I'm diversifying into fruit cultivation like pineapples, bananas, besides rice in Monsoon. There are also some saplings of other wild trees like, Sal, Rain tree, etc."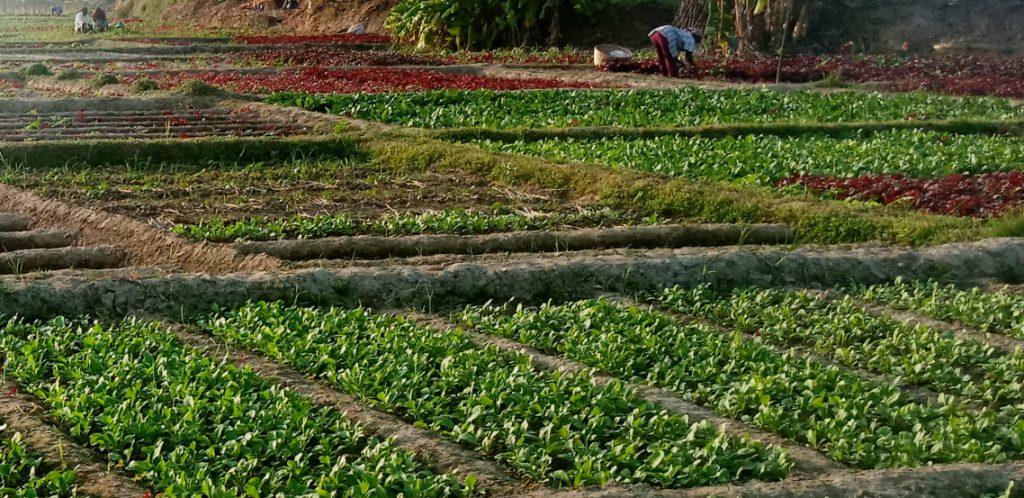 "I love to cook since teenage. My father has been my inspiration and my first teacher. Now my sons bring the urge in me to learn different dishes and feed them.
In this lock down or in Corona pandemic hours when the world was suffering, only good health with perfect immunity could keep us safe. I chose to learn some more healthy recipes (leaving junk food), contributing to better immunity for all my family members.
This lockdown has made our family bond stronger, Besides this, I also undertook fitness activities and some hair cutting job for my sons and father-in-law.
It feels really nice, these small activities at home has brought healthy lifestyle in our house and has cut down some minor expenses too.
As I have been, to my children, also a teacher for their school and religion studies, during this period, kept them away from smart phone & other gadgets and made them indulge into creative activities."
"It was difficult to imagine being jobless without any idea, when things will fall in place and I will board the cruise back. In this time, the backwaters near my house and nets reminded who the inner creative me is…, and that will never leave me bankrupt in any case.
I am a Chef and fishing was my hobby during my vacation. Being born and brought up in fishing village of Velim, situated at backwaters, fishing was the mainstay of the village. "
This pandemic time, where all sources of income have come to a halt. I saw a glimmer of home through our small backwaters and learnt to earn in small ways, contributing to bigger happiness.
TAKE-AWAY FROM CORONA CRISIS
While our busy life made us addicted to services of maids, fast foods, pizza, etc, this lock down proved to be a teacher pulling us back to our roots, do self service, spend time with family, sit with our mother/ grandmother, get back to mom's kitchen trying grandmother's recipes, oil our hair and most of all – offered plenty of time to listen to our inner self!